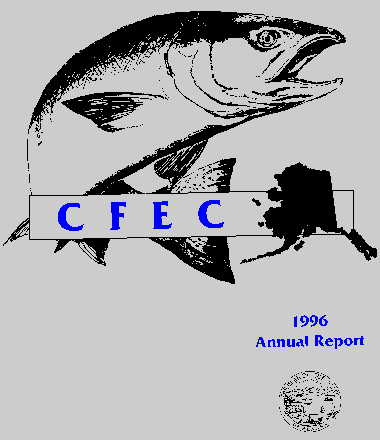 State of Alaska
Commercial Fisheries Entry Commission
1996 Annual Report
September 1997




Dear Governor, Legislators, and Fellow Alaskans:


Pursuant to AS 16.43.980, we are pleased to submit the Commercial Fisheries Entry Commission's 1996 Annual Report. As in the past, nearly twice the cost of the Commission's operation was generated from license fees paid into the state general fund.


These are difficult times for many fishers, and the Commission continues to help fishers protect their fishing privileges. We work closely with the Division of Investments, Department of Commerce; the Commercial Fishing and Agriculture Bank, the Alaska Business Development Center, the Child Support Enforcement Division and the Internal Revenue Service.


During 1996, the Commission issued 42,423 licenses, reviewed 1,931 transfer requests, and issued 233 adjudicatory decisions. At various stages of adjudication, 609 cases are before the Commission.


Fishers have petitioned the Commission to limit an additional 24 fisheries. The Commission is reviewing these petitions and will develop proposals for public comment as required by the Limited Entry Act.


The Commission continues to work with the Legislature on various fisheries issues including a bill supported by Governor Knowles to provide the Commission with authority to establish a temporary moratorium in a fishery when required to promote the conservation and sustained yield management and the economic health and stability of a fishery.


We renew our commitment to employ the Limited Entry Act for resource conservation and for prevention of economic distress among fishers and those dependent upon them for a livelihood.


Sincerely,


COMMERCIAL FISHERIES ENTRY COMMISSION


Dale Anderson, Commissioner
Marlene Johnson, Commissioner
Bruce Twomley, Chairman






by:______________________________________


---
EEOC/ADA Compliance Statement
The Alaska Department of Fish and Game administers all programs and activities free from discrimination on the basis of sex, color, race, religion, national origin, age, marital status, pregnancy, parenthood, or disability. For information on alternative formats available for this and other department publications, contact the department ADA Coordinator at (voice) 907-465-6173, or (TDD/TDY) 907-465-3646 or 1-800-478-3648, or (fax) 907-465-2440. Any person who believes she or he has been discriminated against should write to:
ADF&G
P.O. Box 25526
Juneau, AK 99802-5526

or

O.E.O.
U.S. Department of Interior
Washington, D.C. 20240


---
Commercial Fisheries Entry Commission
Governor
State of Alaska
Tony Knowles
Commission
Dale Anderson, Commissioner
Marlene Johnson, Commissioner
Bruce Twomley, Chairman

Adjudications
Frank Glass
Adjudications Project Leader


Data Processing
Roger Kolden
Data Processing Project Leader


Licensing
Christine Kelly
Licensing Project Leader


Research
Kurt Schelle
Research and Planning Project Leader


Design and Layout
Sandra Thomas
Publication Specialist


Cover and Illustrations
Dale Anderson


Photographs
© K. Anthony Lara Photography
Sierra Publishing
7713 Deanton Court
Citrus Heights, CA 95610
(916)723-2324
























---
1996 Annual Report
Table of Contents
Overview
Overview
Overview
New Amendments to the Limited Entry Act
Permits with Fishing Capacity Restrictions
Southeast Alaska Dive Fisheries Moratorium
The Bering Sea Korean Hair Crab Fishery Moratorium
New Limitations and Moratoria
Point System Proposals and Application Periods
Cook Inlet Dungeness Crab Pot and Ring Net Fisheries
Southeast Alaska Dungeness Crab Pot, Ring Net and Dive Fisheries